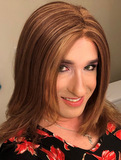 Ms. Savannah Hauk
Author

Savannah Hauk originally from the Detroit area, moved to the boroughs of New York City over twenty years ago in pursuit of a career in graphic design and website management. She now lives in South Carolina with her cis-partner, Judy Swain.

She loves dogs, movies, Stephen King novels, cosplay and comic cons. In addition, crossdressing as a woman is an integral constant of who she is. Her personal journey—and that with her partner Judy—is ever-evolving.

She is the author of "Living with Crossdressing: Defining a New Normal", awarded the 2018 eLit Gold Medal for LGBT Non-Fiction and the Silver Medal for Sexuality and Relationships. She is also the author of a zombie apocalypse series under her male name.