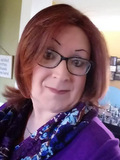 Ms. Janelle Crossley
Gender Identity Advocate

Janelle Kayla Crossley is an advocate for gender identity in Central, Pa. and surrounding areas for 6+ years. Her passion is bringing visibility, awareness and education of gender identity to society in hopes of gaining equality for all. Since her transition 6 years ago she have become a volunteer with many organizations with in my community including becoming a Big Sister of Big Brothers/Big Sisters as well as serving on local boards for organizations that are bettering our communities.