About Keystone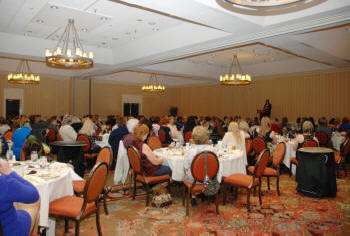 https://keystone-conference.org/index.cfm?page=about-keystone.cfm
Attendees will find four full days of varied and meaningful workshops, seminars and activities and four nights of social functions, the finale being Saturday night's Keystone Gala in the Hilton's resplendent Harrisburg Ballroom. For those desiring more social activities, we have arranged activities for all four days as well, and our extraordinary special event rate for this bright and luxurious hotel is extended for those desiring a longer stay in the clean, lovely and historic riverside city of Harrisburg.
Thank you to the almost 700+ people who attended our twelfth Annual Keystone Conference in March of 2022 and made it such an overwhelming success! From your suggestions, we are expanding the 2023 Keystone Conference by increasing the number of social and educational programs, broadening the range of topics and expanding the schedule to provide more opportunity to attend the seminars and workshops you want to see and hear.
This larger program also includes continuing education credits for therapists, Transmasculine programming and activities, Spouse/Significant Other activities and a significant reduction in pricing for our attendees ages 25 and under. Rest assured, we have balanced these numerous activities with some scheduled free time for you to take advantage of shopping, site seeing and of course, socializing!
TransCentralPA, host of the Keystone Conference, has been serving the Transgender community in Central Pennsylvania since 1989. We are active socially and educationally here in the northern/mid Atlantic region and have earned a reputation as one of the most active, fun and "with it" gender support and advocacy organizations in the U.S.
Whether this is your first conference or your twentieth, we want you to find support and friendship, further your knowledge of trans issues and to have an enjoyable and uplifting experience. Make your plans to join us in 2023. As all that attended the past twelve years will attest, you won't find a better value for your dollar at any other trans event or gender conference in the U.S.!