Crowne Plaza Harrisburg-Hershey Hotel
23 South Second Street, Harrisburg, PA 17101 (
directions
)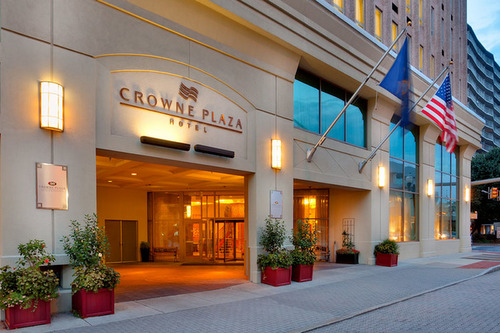 Crowne Plaza Harrisburg-Hershey Hotel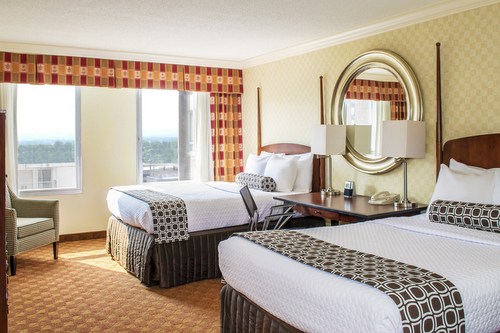 Double Beds at the Crowne Plaza
King Size Bed at the Crowne Plaza
We have selected the
Crowne Plaza Harrisburg-Hershey Hotel
as our alternate hotel due to its immediate proximity to the Hilton as it is less than a 2-minute walk (350 feet) down the street from the Hilton Hotel. The Crowne offers many of the same amenities as the Hilton, but at slightly reduced rates. The room block at the Crowne Plaza is available Tuesday, March 21 thru Sunday, March 26 using the Group Rate Code of "KEY".
2 Queen Beds Standard*
$116
1 King Standard*
$109
*The Keystone Room Rates are available thru Tuesday, February 21, 2023. All rooms are non-smoking.
Check-in time is 4:00 pm and check-out time is 11:00 am. However, both early check-in and late check-out are available upon request. Room amenities include a Coffee Maker, Hairdryer, Free High Speed Internet Access, Iron/Ironing Board, In-Room Safe, Television, In-Room Movies, and Radio/Alarm Clock. Additional amenities as well as connecting rooms are available. Pets are not allowed in the hotel, but service animals are welcome. Also, Keystone attendees staying at the Crowne Plaza receive a 10% off breakfast coupon at their restaurant.
Crowne Plaza Parking & Transporation
24-hour valet parking is available at the Crowne Plaza for $20/day which includes in/out priveledges. Parking is available immediately behind the Hilton Hotel in the
Walnut Street Parking Garage
and at the
Market Square Garage
across the street from the Crowne at $30/day. Both do not grant in/out priveleges. There is also metered street parking which provides free parking after 5 pm. The hotel does not provide shuttle service.
2023 Crowne Plaza Room Reservation Policy
A credit card is required to guarantee all reservations. No minimum number of nights stay required. No deposit required. Guests may not directly transfer their room to another guest. The cutoff date is February 23, 2022 so make your reservations now.
2023 Crowne Plaza Cancellation Policy
Free cancellation until 6:00 PM (local hotel time) 72 hours before your arrival. Canceling your reservation after that time may result in a charge for the first night per room to your credit card or other guaranteed payment method.
Problems Making Reservations?
The majority of the rooms at the Crowne Plaza are available on Thursday, Friday and Saturday, with fewer rooms available on the pre-conference nights of Monday, Tuesday and Wednesday. If those pre-conference nights fill up quickly, the Crowne's website may prevent you from making a reservation starting on those pre-conference dates. Don't worry, the Crowne Plaza is happy to add additional rooms into our block once our initial allocation of pre-conference rooms are full, we just have to request that they do so. Please let us know at
registration@Keystone-Conference.org
. All other questions you can contact the Crowne Plaza directly at 717-234-5021.